Yeah. Basically, these shades are awesome. After Hank punched a lens out of my 5-year old Ray-Ban Predators (MSRP $159) last summer, sending the glass lens plummeting to the asphalt (crunch!), I bought some cheap ($30) polarized sunglasses and enjoyed about 10 months of headaches and poor polarization. However, I recently (FINALLY) saved up enough duckets ($90 on sale, MSRP $119) to buy a pair of Smith
Evolve
Proofs, in my signature tortoise shell (awesome matte/flat finish) with brown polarized lenses. I am doing everything I can to keep them out of Hank's general purview. But on the plus side, Smiths come with a lifetime warranty (suck on that, Ray-Ban!). I've wanted a pair since learning about the brand in 2003 from an Army Corps of Engineers biologist, but I never found the right pair at the right time until now.
I frequently wear sunglasses 10 hours a day for work, or 5-6 hours straight for fishing and hunting. The lenses have to be quality. The frames have to fit my gigantic cranium and my big old German nose. The Evolve Proofs fit the bill on all accounts. While in the brightest conditions (sunny day at the beach), I was left wanting a little more tint, that is true of every pair of brown lens sunglasses I've owned in the last 20 years. The lens has been ideal for driving in the sun, being out on the open water in anything but the brightest conditions, and when fishing, I hesitate to ever take them off. Even when the sun is going down. Smith says the lenses are constructed of "TLT Carbonic" something or other, but since I bought the shades for almost full price, honestly I don't feel obligated to really research that topic! So far, they seem to be hard to scratch and easy to clean, both of which are important to a guy who spends a lot of time in the mud........and getting whacked in the face by tree branches.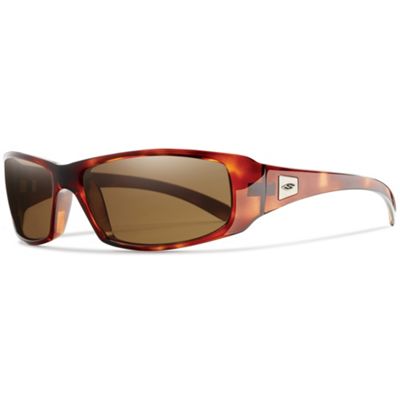 The photo doesn't really capture the texture of the frames - they are flat-brown and are slightly rough to the touch - no gloss finish. Apparently the plastic in the frames is recycled. I'll tell you one thing - they are the lightest wrap-around sunglasses I have ever owned. They also haven't fogged up like my old Rustys (1998-1999), Oakley Fives (2 pairs, 1999-2005), or my more recent Ray-Ban Predators (to the least extent of those listed) used to do, which probably has to do with the fact that the frame is more square, and toward the sides of my face, sit a bit away from my eyes.
It's only been a month, but I'm hoping that the Smith Evolve Proofs and I will have a long, steady relationship in the field. Check them out for fit and tint the next time you're in the market for technical glasses - they may not be exactly what you're looking for but you won't be sorry you tried them on.
River Mud Gear Grade:
Fit: 5/5 - large but snug.
Lenses 5/5 - some of the better lenses I've owned
Weight: 5/5 - Very light.
Field Utility - 5/5 - strong performance
Overall Grade: 5/5 - buy these.