So, I was at one of the many obligatory Mid-Atlantic-Fall Harvest-Pumpkin-Apple-Hayride-Corn maze events in northern Maryland recently, and I came across these crazy blue pumpkins!
And because I am a freak, the kind of guy who thinks
Begotten
is coming-of-age journey-of-the-heart, I immediately thought,
"what an interesting decorative pumpkin in an unusual fall color!"
"
Those things totally look like blue zombie heads!
" And before you say, "Zombies aren't blue,"
shut up
, yes they are.
Alright, so we've settled that. Back to the pumpkins. The cucurbit of interest is
Jarrahdale Blue
, a hybrid of American
Blue Hubbard
with the French
Rouge vif D'Etampes
. That took a few minutes to figure out. Thank you, Wikigooglepedia. So now you have a 15lb blue pumpkin. Go, you! How have other disturbed people zombified their
Jarrahdale Blues
? Well, I'm glad you asked.
Source: deviantart.net
Source: hivemind.com
Source: envyrain.deviantart.com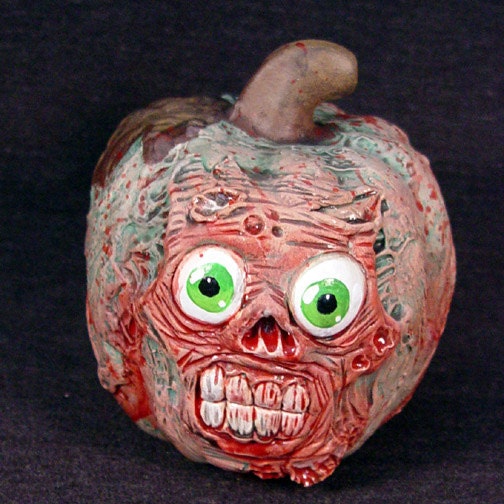 Now go get your blue pumpkin and do your worst!