Psychobilly Nature is a short feature I'm running on River Mud between now and Halloween just for fun. I hope you all enjoy it!
We'll start out with the ubiquitous black rose. While the black rose has been a fairly common metaphor for bad luck and hateful wishes in American music for a hundred years or so, in American film for 61 years, and in politics for at least 30 years, this dark symbol has found a legion of fans within the horror film and horror music communities over the last 20 years. Zombies, coffins, and black roses. I think that sums it up. Here's a song on the flower by Canada's
The Matadors
....
So, that's pretty cool (extra points for the coffin bass), but how many of you have actually seen a
real
black rose (one not dipped, painted, etc)? The number is zero. For a variety of reasons that I'll lay out later this week (linked to a song by the Black Lilies), true black flowers are very rare in nature, and as it turns out, pretty difficult to engineer...and impossible to engineer in roses. The closest variety to black is called "
Black Magic
," and here's what it looks like: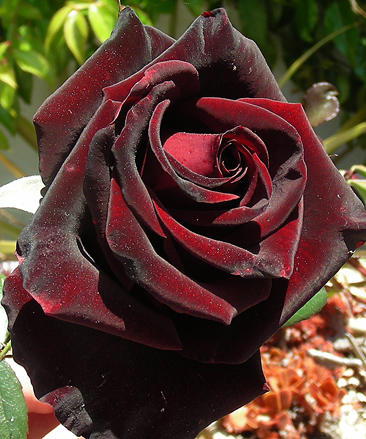 Beautiful? Yes. Dark? Very. Black?
Not even close.
According to
Gardening Central
,
Black Magic
was created by hybridizing the Dallas Rose with the Red Velvet rose, and the result is pretty amazing but scentless....and of course...
not black.
But back to our story. In searching around the web to write this post, I found
one option
for making your own Frankensteined black roses.
First, on WikiHow, I found instructions on
how to grow a "wonderfully deathly rose."
Sign me up! You should visit the page and read the directions, but basically it says to make a 0.1% solution of black food coloring and use it to water the rosebush for an extended period of time (I assume it means as buds are starting to form). Intriguing. While this seems somewhat reasonable in theory (remember that experiment you did in middle school science with celery and food coloring?), I checked a few other random sources on the internet and it at least seems semi-plausible that you could achieve a near-black rose by starting with a dark variety of rose, very sandy soil, and black food coloring.
Here's a link on a home experiment with cut flowers and food coloring
- not mind-blowing...but they got some color. The Planting Science website shows
an experiment with rooted plants that found food coloring up into the stems
, but not leaves or flowers, after a week of treatment.....so obviously we're talking about a much longer commitment to get anything that even comes close to even a "black and red."
So now you know there is
no
black rose. But in case you're in dire need of another psychobilly song about this tragic flower, here's a different song by almost the same name, sung by California's
Rezurex
!