Another fishing blog,
Windknots and Tangled Lines
, had
a writing c
ontest recently and I thought I'd play, since it involves a little stroll down memory lane. However, my own story got a little out of hand, and the challenge ended. The topic - "
my fishing timeline
" was a neat one, and I've read several great entries to the challenge,
including one that's eerily similar, and yet better written than mine will be
. But I do love a good story. And I have one for you.
Pretty standard saturday at our house (I kid, I kid)
My memory of all things early childhood, including fishing, is hazy at best. I grew up in a bustling household of three boys (I'm the oldest), and while our childhood home was bounded by swamp and marsh on two sides, we didn't fish at home.
At first.
By the time my youngest brother was about 4, my dad would take all three of us up to the nearest reservoir (4 miles or so from home), rent a jonboat with oars, buy some minnows and worms, and try to knock loose a few fish here and there.
Given our overall behavior from about 1983 to 1990, that must have been a huge pain in the ass, and I definitely remember it being a debacle almost every time. Pops, at that time, was definitely not the most proficient angler in that era (by the way, he
will
read this), but he was particularly patient with us, our snagged lines, lost fish, hungry bellies, and assorted little-boy-antics-in-a-small-boat. "
He hit me!
" ....need I say more? One particular memory sticks with me from around age 11, though, from a hot spring afternoon, with just my Dad at our local reservoir - a baldcypress swamp flooded for grain mill operations in the 1800s, and later, for municipal water supply.
Photo: Jeffrey Pippen
Not me, but I had this
exact hair cut, and
numerous equally
ugly surfing shirts
I was having a hard time in general (being the typical hot mess that a fifth grader can be), and particularly frustrated with the day's slow fishing. We were using my Dad's favorite tackle, which basically meant baitcasters and minnows, or occasionally the odd purple rubber worm in a dirty, funky ziplock bag. Due to the fact that baldcypress never rots, the place was loaded with sunken woody debris, and it seemed like we spent the majority of our time (as always) retrieving everything from the black watery depths. I remember wanting to give up after about the 400th piece of nightcrawler was stolen off of my hook
Then, a strike and pull - the kind I now instantly recognize as a perch. I reeled it in, and it was a big yellow perch, swollen with eggs. Now, you've gotta realize that Pops will keep and fry any fish that can be caught, more or less. And yellow perch are high on the list,
let me tell you
. But he presented me with a tough choice, saying, "Now Kirk, this is a really good fish, and we can take her home and eat her. Or you can throw her back, so her babies will live." It was the first time I ever released an edible fish.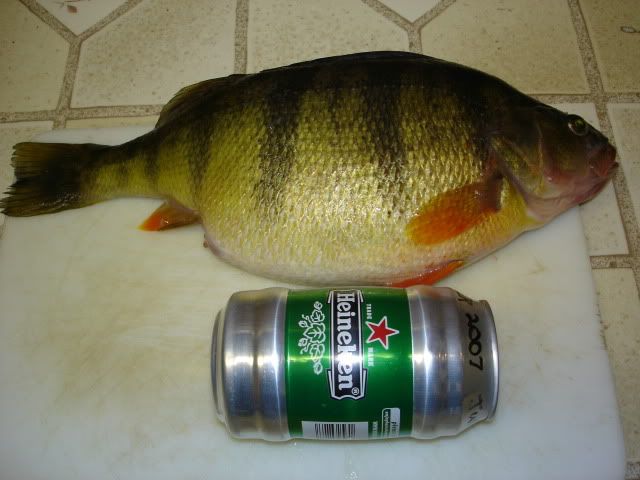 Just like this one!
The moment stuck with me. 25 years later, I almost exclusively practice catch and release fishing, and I've dedicated my career (and much of my personal time) to cleaning up the area's waterways for fish and for people alike. I tell myself that it's (my catch and release antics) a direct result of the pervasive water pollution we have here in the Chesapeake Bay region, but there's something else deep within me, when I catch that 15" crappie or that 14" rainbow trout, that says, "let him go." And I usually do.