Note: this is the continuation of another post, prompted by a writing contest (which has long since passed) on Howard Levett's Windknots and Tangled Lines blog. I took on the project slowly but earnestly because I thought it was important to the overall goals of my blog. I've enjoyed putting it together and I hope you enjoy it as well.
Part IV
Part V
The summer's mission was simple: work a good job and spend every waking moment on the water. I had grown tired of the mountains, and was starting to tire of my long-term grad school girlfriend in the mountains, who had the trait of having temper tantrums over things in life that are not important, and then declaring that she wasn't talking to me for some undetermined number of days. After one such episode, I just never called her back.
With that, I was single, and singularly focused on being 24 and living at the beach - think more Abacos and less Jersey Shore. I've never written about this, and am inclined to keep it brief for right now, but it's an amazing thing, leaving the mountains in early May and heading down the escarpment, through the piedmont, and down off the Fall Line into the coastal plain. It's like watching spring happen in four hours - I've found it to be true from New York to South Carolina. And that sudden change into new, warm growth, was just what I needed. Funny - it was what I needed almost every year I lived in the mountains (about 7).
I bought new saltwater tackle. Lots of it. I used it. I caught fish. We fished early, we fished late. We fished all night. We got in fights on the ocean piers. Maybe that was the beer.
I worked as a wetland field technician for several PhD students at Old Dominion University. The work was strenuous, tick-filled, stressful, sometimes demeaning and almost always, exhausting. The doctoral students, boat operators, and older techs all bragged about how many times they'd had Lyme disease, how many blacktip sharks they'd had to punch out of research fish nets that morning, and generally how hardcore they all were at life. It was tiring just listening to their stories. However, the job site wasn't
horrible
, as far as fishing goes. In fact, I reckon you'd say it was world class.
Meet Hog Island.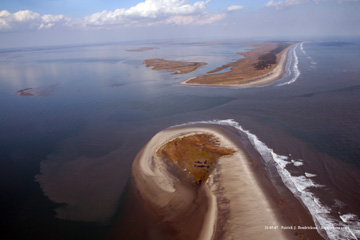 I did tons and tons and tons of fieldwork that resulted in pretty important studies that somebody else got credit for (since it was their idea and their money), such as:
Bledsoe, C.S., T.J. Fahey, R. Ruess, and F.P. Day. 1999. Measurement of static root parameters - biomass, length, distribution. In G.P. Robertson, C.S. Bledsoe, D.C. Coleman, and P. Sollins (eds.), Standard Soil Methods for Long-Term Ecological Research. Oxford University Press, New York.
Dilustro, J.J., F.P. Day, and B.G. Drake. 2001. Decomposition of fine roots under C02 enriched conditions in an oak-scrub ecosystem. Global Change Biology 7: 1-9.
Day, F.P., E. Crawford, and J.J. Dilustro. 2001. Plant biomass change along a coastal barrier island dune chronosequence over a six-year period. J. Torrey Bot. Soc. 128: 197-207.
Dilustro, J.J., F.P. Day, B.G. Drake, and C.R. Hinkle. 2002. Abundance, production and mortality of fine roots under elevated atmospheric C02 in an oak-scrub ecosystem. Environmental and Experimental Botany 48: 149-159.
Day, F.P., C. Conn, E. Crawford, and M. Stevenson. 2004. Long-term effects of nitrogen fertilization on plant community structure on a coastal barrier island dune chronosequence. Journal of Coastal Research 20: 722-730.
I know! Isn't it totally fascinating?
My part of the work was totally significant, like getting attacked by hornets while checking groundwater wells, and "sweating through the flies" while recording root growth on a video camera. In all seriousness though, I did collect a lot of good data and I did - in fact - find a huge bunch of forged data by a doctoral student who didn't like going to the island, so he just made stuff up. That went over well.
Idiot.
We also had a little free time on the island, and managed to sneak bodyboards out there for a little surfing - the closest I've ever been to dolphins (about 18 inches from me - and - side note - dolphins are
really big
).
We also snuck out 4-piece fishing rods out in our GPS packs, and scavenged for bait. Fiddler crabs = bad bait unless you want to catch cownose rays. Cownose ray = horrible bait and impossible to cut. Dead minnows = great flounder, drum, trout, redfish, and shark bait. It was always a little nerve wracking because obviously we'd never fish or goof off
before
finishing our work, which meant we would goof off
after
we finished our work and
before
the work boat returned for us. Not sure if anyone ever knew what the hell we were up to out there, but oh well, it happened. I've never fished so much "without a plan" as I did on those days on the island. Some days we caught nothing, and thought nothing of it.
If your pre-work ritual includes
having to choose between
saltwater fishing and small
wave surfing, you're
doing something right.
It was also most certainly my first experience with large game catch and release.
That's a huge redfish! Now throw it back before somebody sees us holding a giant redfish on a nature preserve.
By each friday, I was usually sunburned and exhausted, and with almost all of my clothes covered in mud, salt, and sand.
Even on days (often fridays) when we were stuck in the lab entering data, we'd shift our work schedules to get on the water at sunrise. Often, it turned out to be just a tease, because by 8:15am we'd have to be brushing the sand and mud off, throwing gear in the car, and changing clothes while driving (totally safe). Really stressful just to catch a wave or wet a line. But inevitably the weekend, came, and that meant it was time to head south into North Carolina.
Weekends in the Outer Banks were brutal, as you can see from the photo below.
I love this picture of the (now destroyed) Frisco Pier because this is how I remember it from that summer. I'd surfed here many times before that year, but always in storm-blown conditions. The first several times I saw it in Summer,1998, the water was the blue color in this photo. Never before or since have I had that much fun surfing and fishing among friends - in water that was a few degrees warmer than Hatteras' chilly surf, and full of fish. So clear and so blue.
Winning at life, ha ha!
And unlike points north of Cape Hatteras, the towns of Frisco and Ocracoke were filled with only two brands of people: surfers and anglers. Two great, stoked crowds to be around. Conversations around campfires and deck bars were only about water clarity, marine forecasts, and "secret reefs" for one purpose or another. Man, it was a great time.
I never fished with anything more complicated than a tandem bottom rig or a Carolina rig, and I didn't care. Most saturdays found my friends and I on the road to "Frisco, baby!" by 430am, surfing from 630am to 930am, surf fishing (and napping) most of the day while the onshore winds cranked, surfing again until sunset, and driving back to Virginia Beach on an empty gas tank (gas was 99 cents a gallon in 1998!), exhausted, sunburnt, broke, and drunk (passengers) on cheap beer. And by beer, I mean 40s of Mickeys. Because that's how we roll in the 757. Moment of silence.
.....and all was right with the world. Two other things happened that summer that hadn't taken place for a long time - I fished with my brothers and I fished with my Dad, a relentless bait dunker. One day, I caught a largemouth on a Rapala minnow while Pops was busy philosophizing about the amazingness of live bait, and getting skunked with live minnows (he ended up catching
one bass
, slightly bigger than mine....). I remember another day where it seemed like my brother T and I just pulled bucketfuls of fish out of an inlet in Virginia Beach. Flounder. Trout. Croaker. 5000 sea robins. 47 oyster toads. Flounder. Trout.
Repeat.
Before I knew it, the summer was over. For the first time in my life, I'd put the outdoors ahead of women in my life, at least in terms of my schedule, and it felt fantastic. I remember reluctantly loading the truck back up to head up the mountain to Boone for my final semester of grad school. I carried on with some solid fishing in the mountains - catching smallmouth and largemouth in the lakes around ski resorts, for one thing. I remember following the fish stocking schedule for the first time in my life - and being successful based on it.
And I remember feeling different about fishing and about the outdoors - that something had fundamentally shifted. Maybe an addiction. That rekindled love of fishing would be tested a few months later when I left grad school and North Carolina and took a job in Baltimore - unknown land and unknown waters. Two hours from the ocean and ninety minutes from the mountains. I wasn't sure if that layout was perfect, or horrible, but I'd soon find out. Tune in to Part IV! Thanks for reading!